Not every story that screams out "persecution of Christians" really turns out that way, and this one is a perfect example.
Yes, 36-year-old Kenrdra Stocks was jailed for having her baby baptized. And yes, she showed some courage by enduring the weeklong jail sentence to do it. But there's a lot more to this, and while Stocks sacrificed for her beliefs in this one isolated way, it really is a cautionary tale about what happens when you play fast and loose with God's other commands.
For the record, I do not believe in infant baptism because I believe baptism is an ordinance to which an individual is commanded to submit upon surrendering to Christ and receiving His grace for the forgiveness of sins. Someone else can't decide you should be baptized. It's not a box to check to make sure you get into Heaven in case you die unexpectedly.
But with that on the record, Stocks does believe in infant baptism, so let's look at the facts here. Stocks had a baby out of wedlock following a relationship with a guy that lasted six months. The two never married, and when the baby was born, there were legal proceedings concerning custody and the raising of the child. One issue the court dealt with was the religious rearing of the child, and both parents wanted the child raised Catholic. Both agreed they would take no major steps in that rearing without the other being informed and signing off on the decision.
But when Stocks decided it was time for the baby to be baptized, she did so without the involvement or consent of the father, and that's what landed her in jail:
District Court Judge Sean Smith found Stocks guilty of contempt last March, and wrote that the mother had acted in "bad faith disregard" when she failed to notify Schaaf of the baptism or give him any role in the ceremony, the paper reported.
Stocks appealed, but Smith's ruling was upheld on Monday — with the original sentence of 10 days cut down to seven.
"I'm scared," Stocks told The Observer. "I'm sad about what has happened. I don't regret having her baptized. That was in her best interest … I don't see how this is in the best interest of the family. Her father is sending her mother to jail."
Jonathan Feit, Schaaf's attorney, emphasized that Stocks was being punished not for baptizing her child but ignoring the judge's order.
"For our system to work, there ought to be consequences for willfully and intentionally violating a court order," Feit told The Observer. "I teach my children that. I reject the notion that anybody else is responsible for what is happening besides Ms. Stocks herself."
The couple's daughter was the product of their six-month relationship that ended in February 2014, according to the report.
So let's be very clear about this: Stocks was not put in jail by a godless court hostile to Christianity, trying to criminalize the rite of baptism. She was put in jail because she was supposed to get the kid baptized in cooperation with the father, and she flouted that order and just did it on her own.
How could she have handled it better? Well, she could have put aside whatever tension or differences may exist between her and the father in the post-breakup relationship and scheduled a baptism that involved both of them – like the court ordered her to do.
But there's an even better answer to the question: She could have refrained from sex outside marriage.
If you marry the right person, committing to them in covenant love as God designed and forsaking all others in a lifelong commitment blessed by God, and then you have sex and have a child, none of these problems come up.
Catholics believe that a baby who dies before being baptized does not go to Heaven, so when a baby is born there's a certain urgency to get the baptism done just in case. Usually they do it when the baby is about a month old, although they believe that in an emergency anyone can sprinkle the baby and God will accept it as valid.
I don't know if this is what motivated Stocks, or if she just can't stand the guy and didn't want to cooperate with him. Either way, you have to hand it to her for accepting a weeklong jail sentence in order to make sure her baby got what Stocks thought the baby needed to secure her eternal destiny.
But she only had this problem in the first place because she was disobedient to God in her sex life. That doesn't mean she can't be forgiven for that – of course she can – but it does mean that the rest of us reading this story should understand you can't just be cavalier about God's commands without suffering consequences.
There's a reason God told us to enjoy the blessing of sex at certain times and under certain circumstances. And people who ignore all that and continue to just grab what their flesh wants when it wants it continue to demonstrate that Galatians 5 is validated every time people insist on testing it.
Get the complete collection of Dan's books for the low-price of $49.99! Dan will sign all copies . Order the 4-pack of Powers and Principalities, Pharmakeia, Dark Matter and Backstop.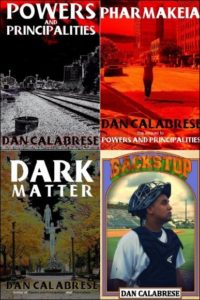 Or order individually for $15.99 each!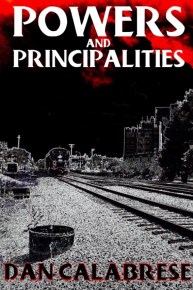 Powers and Principalities (2009): Twenty years ago, Clay Bender saw the face of spiritual evil with the naked eye while attending a party. Now, Clay's terrifying spiritual gift returns, showing him that a supernatural threat is looming – one that could threaten everyone in Royal Oak. As the community grapples with bizarre electrical disturbances and a horrible train derailment, only Clay can recognize the true nature of the strange events, and he and his two closest friends have little time to battle the city's demons – even as all three are forced to face their own. (Buy Now button for signed hard copy: $15.99. Amazon button for digital download: $2.99)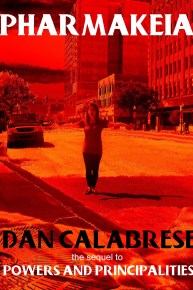 Pharmakeia (2010): Kyla Spears is being warned – in terrifying dreams – of grisly and violent tragedies looming for young people in Royal Oak. But her spiritually gifted friend Clay Bender is reluctant to help, and her feelings for one charming young man threaten her newfound spiritual integrity and her ability to face the truth about what's really behind the threat. (Buy Now button for signed hard copy: $15.99. Amazon button for digital download: $2.99)
Comments
comments