PHOTO CREDIT: Robert Kintner via Flickr
Just so you know, it is not more expensive to be married than it is to be single. Marriage means you have a roommate but without the need for an extra bedroom. It doubles your personal exemption on federal taxes. It expands your labor capacity and potentially your earning capacity. It reduces your food waste. It makes health insurance more accessible.
None of these are reasons to get married, of course. You should only get married because you love that person of the opposite sex and want to enter into a covenant relationship under God. But when people try to tell you it costs more to be married, that's nonsense. It doesn't.
So why are we hearing that many couples are delaying their nuptials because of cost? They're not talking about the cost of marriage. They're talking about the cost of the wedding, and sometimes just the proposal:
The study of 5,000 married US adults revealed that couples are increasingly delaying their wedding plans due to the rising costs of getting hitched.
The new survey displayed how marriage proposals have evolved over the past decade, including a surge in the number of couples who now say getting married caused a significant financial burden.
One in three (30 percent) of couples engaged in the last two years had to delay their wedding for financial reasons, according to the study, which was conducted by online engagement ring and loose diamond retailer JamesAllen.com.
Despite today's couples spending slightly more on the proposal itself – whether through experiences or hiring a photographer – 30 percent say that they delayed nuptials for financial reasons, a significant increase from the 8 percent of couples a decade ago.
Whether it be the desire to go viral online, or the burdensome financial strain, or perhaps just a turn towards the traditional, the difference a decade has made when it comes to the way people propose to each other is staggering.
Couples engaged in the last year were also more likely to downsize their wedding, reception and bachelor/bachelorette parties due to costs than couples in the past. And they were 12 times more likely to say that finances put a major damper on the romance of their wedding.
According to Forbes, the average cost of an American wedding in 2016 was  $35,329. That's obscene. You're getting married, not feeding the U.S. Army.
And that's before you take into account the elaborate proposals involving everything from professional videographers to scoreboard appearances at Yankee Stadium (which don't always go well, just so you know).
Look, it's your life, and if you want to drop that coin and make yourself into that big a spectacle, I can't tell you not to.
But let's be honest about what this is: The product of a culture that values glitz and glamour over the day-to-day love and commitment that's really the crux of marriage.
Getting married is about committing yourselves to each other in covenant before God. It's about loving each other, helping each other, encouraging each other and standing by each other no matter what.
It is not about the cake, the alcohol, the dancing, the DJ, the dress, the gift bags for the groomsmen or the destination.
Yet how many people, when considering or anticipating marriage, ar more concerned about impressing (or outdoing) their friends with the wedding spectacle than they are thinking about how to build a life with the person of the opposite sex you're choosing to spend your life with?
I suppose a lot of people do it up bigger than they would prefer so as not to disappoint parents or friends, but that too is a matter of out-of-whack priorities. Your soon-to-be husband or wife is the one you should be thinking about taking care of, not the people who are worried about explaining to their friends why there wasn't an open bar or a garter toss.
I believe most people can tell after six month if the person they're dating is the one they want to commit to in marriage. If they haven't already shown themselves to be that person, the relationship should end. If they have, then quit worrying about impressing everyone and just get married. You could do an awful lot of things with $35,000 – things that could set you on a course for a financially stable life. You might not have the wedding of your dreams and the most impressive one in your circle of friends, but a lot of good that would do you anyway if you end up divorced in a few years.
If you're shacking up instead of getting married because you think you need to spend $35,000 on your wedding, I'd say you should just break up now because you obviously don't understand what marriage is all about, and you're not ready for it.
Get the complete collection of Dan's books for the low-price of $49.99! Dan will sign all copies . Order the 4-pack of Powers and Principalities, Pharmakeia, Dark Matter and Backstop.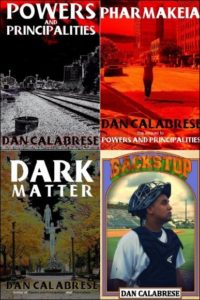 Or order individually for $15.99 each!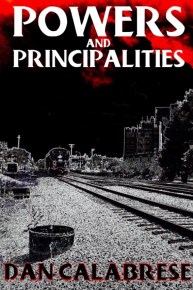 Powers and Principalities (2009): Twenty years ago, Clay Bender saw the face of spiritual evil with the naked eye while attending a party. Now, Clay's terrifying spiritual gift returns, showing him that a supernatural threat is looming – one that could threaten everyone in Royal Oak. As the community grapples with bizarre electrical disturbances and a horrible train derailment, only Clay can recognize the true nature of the strange events, and he and his two closest friends have little time to battle the city's demons – even as all three are forced to face their own. (Buy Now button for signed hard copy: $15.99. Amazon button for digital download: $2.99)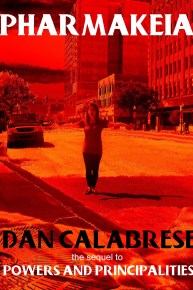 Pharmakeia (2010): Kyla Spears is being warned – in terrifying dreams – of grisly and violent tragedies looming for young people in Royal Oak. But her spiritually gifted friend Clay Bender is reluctant to help, and her feelings for one charming young man threaten her newfound spiritual integrity and her ability to face the truth about what's really behind the threat. (Buy Now button for signed hard copy: $15.99. Amazon button for digital download: $2.99)
Comments
comments