PHOTO CREDIT: Chris Pratt via Twitter
You've seen enough of this that it isn't even really surprising anymore, but we need to go deeper and identify what's driving it on a spiritual level.
It's not a secret that Chris Pratt is a Christian, and he's not shy about expressing his faith, although he's not trying to shove it in your face all the time. He does it when it makes sense to do it, and when someone you know has had a heart attack, that's an obvious time.
I also think Pratt is a smart guy and probably knew what would happen on Twitter – and welcomed the opportunity it would present. His initial tweet was, seemingly, innocuous enough:
Kevin we don't know each other too good but I have loved you since Clerks and I'm praying my ass off for you cause I believe in the healing power of prayer. Can you please pray with me people!? 🙏♥ https://t.co/syB7BiQaoY

— chris pratt (@prattprattpratt) February 26, 2018
Twitter being Twitter, and the people on it being the way they are, anyone could see this coming:
That's cool and everything but Doctors and nurses save lives not prayer.

— Retro Bigfoot (@RetroBigfoot) February 26, 2018
Awesome. We will wait for proof of your claim. Or is this something you take on "faith?"
Ridiculous.

— Hume the Skeptic (@HumeTheSkeptic) February 26, 2018
Faith in medication working. Medication that are proven to heal sometimes. There is NO proof there is a higher power. Zilch.

— ManBat (@Neighstation4) February 26, 2018
Studies have shown that sick people who know they're being prayed for have measurably worse health outcomes than those who do not know they're being prayed for.

Prayer doesn't work. In fact, sometimes it hurts the patient. Speculation is the duty to perform stresses them.

— George Mason (@70chickens) February 26, 2018
You should really be believing in the hard work and skills of the doctors that are helping him, not 'prayer' 🙄

— ☠ (@r0bynnn_) February 26, 2018
And on and on it goes. I think you get the idea.
Now what's really at work here, beyond the obvious hatred of God, faith and all the apparent moral limits that come with devotion to God?
Have you ever gone to a party where everyone was drinking, and decided to be the only one not drinking? If you try this, you'll notice that it makes the drinkers very uncomfortable. Some will come up and ask you about it, even demanding an explanation, then attempting to shoot down whatever it is you tell them (unless you say you're the designated driver, because that implies that you'd drink if you could).
This is a spirit of debauchery getting agitated by the presence of someone who won't follow its spiritual lead, because that's a threat.
Satan does not want people to believe in the power of prayer. He wants humans to set themselves up as their own gods. This is a spirit of idolatry. It necessarily means humans relying on their own abilities, their own skills and their own efforts to do anything and everything. If God is given any credit for any good outcome, then people can't be their own gods.
Many people have signed on to the idea that if anything is to be done, we have to do it – ourselves, on our own. Not only does that make them feel more intellectual, but it also relieves them of the obligation to respect limits on their moral behavior established by God. It eliminates the need to deal with sin, because it rejects the whole idea of a God with authority who can hold us accountable for sin.
When someone like Chris Pratt, who is high-profile and well-regarded in a secular profession, expresses not only belief in the power of God but the need for it, the spirit of idolatry is agitated. It is threatened. And it brings forth agitation in those who are on board with the humans-as-gods agenda to lash out at the notion that we need power from God.
Now, if Kirk Cameron had tweeted this, it would have invited some blowback but not on the same level because the culture long ago put Cameron in a box as a Christian propagandist who doubles as an actor. The fact that Chris Pratt is an A-lister who does secular films, but also expresses belief in the power of prayer, is much more threatening to the spirit of idolatry. That's why the viciousness of the attacks against him was so much greater.
Understand: When you publicly proclaim the power of prayer and the need for God, the agitated, angry response from the culture is a sign that demonic spirits feel threatened by what you've done. I get the impression that, at least on some level, Chris Pratt seems to understand this.
Good job, Chris. Keep it up. It's making a difference.
Get the complete collection of Dan's books for the low-price of $49.99! Dan will sign all copies . Order the 4-pack of Powers and Principalities, Pharmakeia, Dark Matter and Backstop.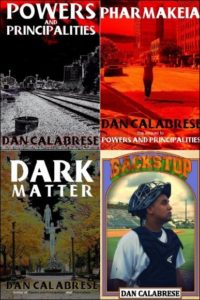 Or order individually for $15.99 each!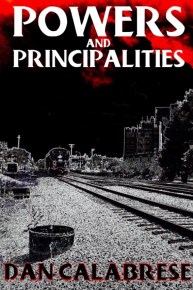 Powers and Principalities (2009): Twenty years ago, Clay Bender saw the face of spiritual evil with the naked eye while attending a party. Now, Clay's terrifying spiritual gift returns, showing him that a supernatural threat is looming – one that could threaten everyone in Royal Oak. As the community grapples with bizarre electrical disturbances and a horrible train derailment, only Clay can recognize the true nature of the strange events, and he and his two closest friends have little time to battle the city's demons – even as all three are forced to face their own. (Buy Now button for signed hard copy: $15.99. Amazon button for digital download: $2.99)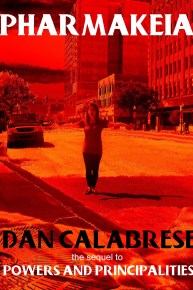 Pharmakeia (2010): Kyla Spears is being warned – in terrifying dreams – of grisly and violent tragedies looming for young people in Royal Oak. But her spiritually gifted friend Clay Bender is reluctant to help, and her feelings for one charming young man threaten her newfound spiritual integrity and her ability to face the truth about what's really behind the threat. (Buy Now button for signed hard copy: $15.99. Amazon button for digital download: $2.99)
Comments
comments