Donald Trump is a very flawed man. Here's how I explored that fact in the run-up to the 2016 election:
Donald Trump has not deceived me into thinking he's some sort of great moral champion. Anyone can see that he's a very flawed man, and that any commitment he has to Jesus Christ is at an immature point.
But I know many people who were called out of sin by God for important purposes. At the time they answered the call, they did not instantly and completely transform into heroes of the faith. But they were willing to be obedient and willing to serve – and that gave God something to work with.
I see in Donald Trump a man who understands how many things he's done wrong. I know what he said some months back about not asking God for forgiveness but just trying to make things right, and that's the part that reflects the very immature understanding of the faith. If he's been talking to Franklin Graham, I am 100 percent certain he understands the need to seek forgiveness from God much better today than he did when he said that.
Trump does not stand there and lie in your face, claiming he's morally pure and has nothing to answer for. I've rarely heard him more humble than at the RNC when he specifically thanked evangelicals for their support because, as he put it, "I'm not sure I deserve it."
And maybe he doesn't, but it's not really about what he deserves. The presidency is a secular job, but like all jobs, God is sovereign over it. As flawed as Donald Trump is, his instincts seem to be in favor of the things that are right. He clearly favors free markets, lower taxes and a serious fight against terrorism. He recognizes how badly ObamaCare is failing while the media try their best to protect Hillary by ignoring the story. Trump would work on the right problems, and while he badly needs advice from people who understand public policy, I think he'll seek advice from the right kinds of people. The selection of Mike Pence as his running mate is a very encouraging sign in that direction.
Given my druthers, of course I'd like an outspoken, longtime evangelical Christian who lives and testifies his faith in Jesus. But our choices this time are between a man who certainly sounds like a friend of Christians, and a woman who is clearly anything but. One of these two is going to be the next president, however much you want to play fantasy games and talk about voting for Gary Johnson, Jill Stein or Deez Nuts. I'm going to choose the friend over the foe, and I'm going to pray for him to receive the full guidance of the Lord as he endeavors to govern. I have no illusions about who or what he is. But I also know what God is capable of doing through some of the most unlikely people – if they're willing.
So does this mean that if it's really true Trump cheated on his wife with porn star Stormy Daniels, we should just shrug our shoulders and not care because we already decided to live with his flaws?
Of course not. And it's looking more and more  like it may be true:
Stormy Daniels, the porn star who says she was paid to keep quiet about her alleged affair with Donald Trump, sued the president Tuesday, asking the court to declare that her nondisclosure agreement before the 2016 election is void because Trump did not sign it.
In the lawsuit filed in Los Angeles Superior Court, Daniels – whose real name is Stephanie Clifford – said she had wanted to go public with the story of her alleged decade-old affair with Trump in the weeks leading up to the election. The lawsuit was first reported by NBC News.
Trump's lawyer, Michael Cohen, and Daniels' attorney at the time, Keith Davidson, negotiated what the lawsuit calls a "hush agreement" in which she would be paid $130,000. After delays and even a cancellation of the contract by Daniels on Oct. 17, the payment arrived on Oct. 27, 12 days before the election, according to emails reviewed by The Washington Post. Cohen said recently that he had used his own money to "facilitate" the payment.
The lawsuit suggests that Trump was aware of the agreement and that the money was intended to influence the election's outcome. That intimation bolsters two complaints filed with the Federal Election Commission that say the payment violated election law because it was not reported as an in-kind campaign donation.
Adultery is a very serious breach of trust. I said so when Bill Clinton was president and I say so now. I said that if your wife can't trust you, there's no reason to think the country can trust you.
That was true with Clinton and it's true with Trump. When we were faced with a choice between Trump and Hillary Clinton, many of us struggled with the fact that neither candidate exhibited good moral behavior, and it sucked to be stuck choosing between the lesser of two – if not evils, certainly very flawed options.
Yet I was not interested in voting third-party just to take some sort of moral stand. I believed then and believe now that handing the power of the presidency to Hillary Clinton would damage the country in ways too horrible to imagine, and it was obvious that only Trump could beat her.
Was I willing to live with Trump's moral flaws if it meant saving the country from the damage Hillary would do – to the economy, to national security, to the institutions of government, to the courts, to our crucial alliances . . . and to so many other things?
It wasn't my preference, but given the stakes, I believed then and believe now that it was the best option available.
So now that it appears Donald Trump had an affair with a porn star a little more than a decade ago, should we call for his impeachment or resignation over it? Wouldn't it be better to see conservative Christian Mike Pence take over? He would support all the policies we like in Trump, after all, but would not come with same degree of moral stain.
But here's the problem: The voters didn't elect Mike Pence president. They elected Donald Trump president. Furthermore, the voters made it very clear 20 years ago that they didn't want a president removed from office even for having an affair with a 21-year-old intern in the White House.
The voters were not under the illusion in 2016 that Donald Trump was a man of great personal morality. A salacious revelation from his relatively recent past is not a major shock. It does not mean we were misled about who we were electing.
Trump remains today what he was in 2016 – a man with a very bad record when it comes to dealing with women. (And we haven't even gotten into the Access Hollywood tape.) He is not someone I would recommend that anyone follow as an example of good personal morality.
I also find somewhat convincing the indications that Trump has gotten closer to God since seeking and ultimately winning the presidency. I am encouraged by the fact that he is listening to a man like Franklin Graham, even though I realize the most ardent Trump-haters will insist any openness to Graham's message must surely be insincere.
I'm happy to condemn adultery with a porn star. (Do you really need me to?) I lament that our president is not more virtuous in his personal life. I pray for God to help him with that.
And yet I appreciate many of the decisions he's made – both for the benefit of the nation and on behalf of religious liberty. I still think he is a man who wants to do what's right and struggles to follow through, and probably in many cases doesn't want to as badly as he wants to indulge his flesh and his ego.
Yet I hope it doesn't bring him down as president, because that would be very bad for the nation. For now, I pray for his success as president and for his repentance from his worst personal flaws. I know God can mightily use some very flawed vessels, and I pray He continues to powerfully do so with Donald Trump.
I hope none of us are under any illusions about the kind of man Donald Trump has been throughout his life, but I still believe that like so many people, he wants to be better than he is. Maybe he's better now than he was when he presumably committed adultery with a porn star more than a decade ago.
I pray that he is. So should we all.
Get the complete collection of Dan's books for the low-price of $49.99! Dan will sign all copies . Order the 4-pack of Powers and Principalities, Pharmakeia, Dark Matter and Backstop.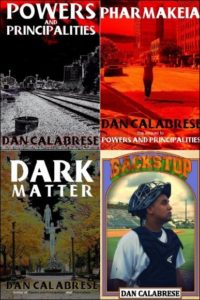 Or order individually for $15.99 each!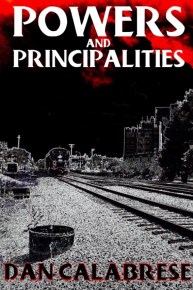 Powers and Principalities (2009): Twenty years ago, Clay Bender saw the face of spiritual evil with the naked eye while attending a party. Now, Clay's terrifying spiritual gift returns, showing him that a supernatural threat is looming – one that could threaten everyone in Royal Oak. As the community grapples with bizarre electrical disturbances and a horrible train derailment, only Clay can recognize the true nature of the strange events, and he and his two closest friends have little time to battle the city's demons – even as all three are forced to face their own. (Buy Now button for signed hard copy: $15.99. Amazon button for digital download: $2.99)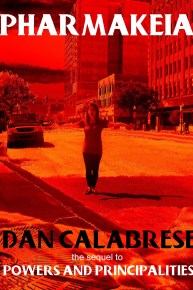 Pharmakeia (2010): Kyla Spears is being warned – in terrifying dreams – of grisly and violent tragedies looming for young people in Royal Oak. But her spiritually gifted friend Clay Bender is reluctant to help, and her feelings for one charming young man threaten her newfound spiritual integrity and her ability to face the truth about what's really behind the threat. (Buy Now button for signed hard copy: $15.99. Amazon button for digital download: $2.99)
Comments
comments