I have a longstanding policy. I do not think people should apologize for expressing their opinions, even if their opinions upset people.
That's what you think? OK. Thanks for putting it on the record. Your belief in something I find abhorrent doesn't actually do me any damage, and if you're honest about it then I'm more aware of the state of discourse.
Opine away.
But corporations get the heebie-jeebies when those speaking on their behalf (or perceived to be doing so) say controversial things, and ABC – along with parent company Disney – took a lot of heat when Joy Behar mocked Vice President Pence, not just for his Christian faith, but for the manner in which former White House staffer Omarosa Manigault-Newman claimed he practices it.
Remember, Manigault-Newman's claim was that Pence is even scarier than Trump because, she explained, he believes he hears Jesus talking to him. This prompted mockery entirely unsurprising for anyone who has suffered through five minutes of The View – first from Sunny Hostin and then from Joy Behar.
The uproar was pretty intense, and it went so far that even Disney's left-wing CEO Bob Iger felt obliged to diffuse it by claiming that somehow, some way, Behar had actually apologized for it:
Disney CEO Bob Iger said during a shareholder meeting that Behar apologized "for things she has said about Christians and the Trump administration," according to Los Angeles Times reporter Daniel Miller.
"Iger agrees that was appropriate," Miller added.
The Wall Street Journal's Joe Flint tweeted that "Behar apologized to Pence" and Iger told shareholders he "took exception with Joy Behar's remarks."
ABC did not immediately respond to request for confirmation.
Back on Feb. 13, "The View" panel criticized Pence's faith when co-host Sunny Hostin said, "I don't know that I want my vice president, um — speaking in tongues and having Jesus speak to him."
Behar chimed in, adding that hearing from Jesus is actually called "mental illness." Pence himself didn't appreciate the comments and slammed ABC News.
Now if Behar has actually apologized for what she said, it's a little strange that she hasn't done so publicly. I'm not sure if we're supposed to infer from this that she spoke with Pence directly, or if she just indicated privately to Iger or perhaps the producers of The View that she wished she hadn't said it.
But it doesn't matter. Behar is under no obligation to apologize. By the way, I'm not sure why Hostin is getting no heat and Behar is getting all of it – probably the reference to "mental illness" – but it doesn't matter anyway.
I'm glad Behar said what she said. It was the perfect representation of how our secular culture views the exercise of real Christian spirituality, and no one is better off when they politely pretend otherwise. Let's get it out there.
The Bible teaches in John 14, 15 and 16 that the Holy Spirit guides us into all truth and understanding. 1 Corinthians 2:14 says this is all seen as foolishness by the world, which can't understand it in its worldly intellectualism because these things are spiritually discerned.
Secular people find all this to be preposterous. They have no concept of spiritual discernment, or of the idea that anyone or anything that operates outside the natural world could a) exist; and b) communicate with those of us in the natural world. They also find it absurd to think that human beings are spiritual creatures before we are natural creatures, and that anything can happen on a spiritual plane that can involve us.
So it's only natural that secular people would find it akin to mental illness when Christians speak in tongues or hear directly from God.
Even some who identify as Christians don't believe in such things, either because they've imposed their own human-like limits on God's ability to reveal Himself to us, or because they've been misled by certain preachers who teach that there are no longer any spiritual gifts available from Heaven.
Whatever the reason, I like it when the world is brutally honest about how ridiculous it thinks we are. It's the perfect opportunity to explain what we believe and why. It won't convince everyone, of course – the hard-hearted will never embrace God no matter how compelling the arguments for Him – but when we take the opportunity to say what's true (they brought it up, after all), we promote more understanding and make the entire discussion more informed and intelligent.
So if Joy Behar really did apologize, fine, but it was entirely unnecessary. She can continue calling people like Vice President Pence mentally ill, and I think I can say that because I'm also one such person. I speak in tongues and hear directly from the Lord. I realize what the world thinks about that, and I welcome the discussion.
Keep talking, Joy. And so will we.
Get the complete collection of Dan's books for the low-price of $49.99! Dan will sign all copies . Order the 4-pack of Powers and Principalities, Pharmakeia, Dark Matter and Backstop.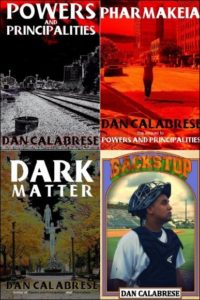 Or order individually for $15.99 each!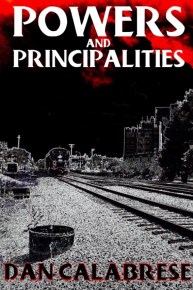 Powers and Principalities (2009): Twenty years ago, Clay Bender saw the face of spiritual evil with the naked eye while attending a party. Now, Clay's terrifying spiritual gift returns, showing him that a supernatural threat is looming – one that could threaten everyone in Royal Oak. As the community grapples with bizarre electrical disturbances and a horrible train derailment, only Clay can recognize the true nature of the strange events, and he and his two closest friends have little time to battle the city's demons – even as all three are forced to face their own. (Buy Now button for signed hard copy: $15.99. Amazon button for digital download: $2.99)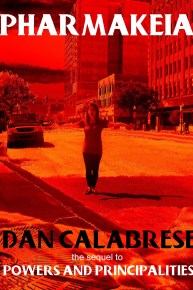 Pharmakeia (2010): Kyla Spears is being warned – in terrifying dreams – of grisly and violent tragedies looming for young people in Royal Oak. But her spiritually gifted friend Clay Bender is reluctant to help, and her feelings for one charming young man threaten her newfound spiritual integrity and her ability to face the truth about what's really behind the threat. (Buy Now button for signed hard copy: $15.99. Amazon button for digital download: $2.99)
Comments
comments