I don't doubt John MacArthur's salvation or his devotion to the Gospel. He clearly lives under the authority of Christ and I would certainly not put him in the same category as someone like Rob Bell, who has gone entirely outside the faith with the things he's now asserting.
But John MacArthur has a very big problem. He is obsessed with Pentecostals, a group of which I count myself part, although he tends to like to label us with the more trivial-sounding name "charismatics."
MacArthur went so far a few years ago as to hold an entire conference called "Strange Fire," whose entire purpose was to attack Pentecostal Christians, particularly our beliefs about prophecy and tongues.
I can't address every claim MacArthur makes in this one post, but I want to address his argument on cessationism. MacArthur insists that the gifts I mentioned here ceased to be available to people on Earth once the canon of Scripture was complete, and he cites several passages of Scripture to defend this position.
One is Scripture's own claim of its own completeness, as exemplified in Revelation 22:18, which says: "I warn everyone who hears the words of the prophecy of this scroll: If anyone adds anything to them, God will add to that person the plagues described in this scroll."
The argument is that God's revelation to man is complete, and that everything he has to say has been written down in Scripture. To seek any further information, insight, wisdom or guidance from God is to hold that Scripture is incomplete and insufficient.
MacArthur and other cessationists also often cite 1 Corinthians 13:8, which tells us: "Love never fails. But where there are prophecies, they will cease; where there are tongues, they will be stilled; where there is knowledge, it will pass away."
This is used as the basis for the argument that prophecies and tongues must have ceased. Here is a four-minute video in which MacArthur sums up his disdain for us "aberrant" Pentecostals:
Let me first deal with the use of 1 Corinthians 13 to justify cessationism. Verse 8 says prophecies and tongues will cease, but it doesn't say when. If you read verses 9 through 12, however, it's very clear when this will happen – and it's not when MacArthur thinks.
Here's the full passage:
8 Love never fails. But if there are prophecies, they shall fail; if there are tongues, they shall cease; and if there is knowledge, it shall vanish. 9 For we know in part, and we prophesy in part. 10 But when that which is perfect comes, then that which is imperfect shall pass away. 11 When I was a child, I spoke as a child, I understood as a child, and I thought as a child. But when I became a man, I put away childish things. 12 For now we see as through a glass, dimly, but then, face to face. Now I know in part, but then I shall know, even as I also am known.
Note the passage in bold. What is this reference to "when that which is perfect comes"? When will that happen?
The answer, clearly, is given in the first four verses of Revelation 21:
Then I saw "a new heaven and a new earth."[a] For the first heaven and the first earth had passed away, and there was no more sea. 2 I, John, saw the Holy City, the New Jerusalem, coming down out of heaven from God, prepared as a bride adorned for her husband. 3 And I heard a loud voice from heaven, saying, "Look! The tabernacle of God is with men, and He will dwell with them. They shall be His people, and God Himself will be with them and be their God. 4 'God shall wipe away all tears from their eyes. There shall be no more death.'[b] Neither shall there be any more sorrow nor crying nor pain, for the former things have passed away."
John is writing here about the final end times, when the promised new heaven and new earth will replace the old heaven and the old earth. This follows the opening of the Book of Life and the casting of the wicked into the lake of fire for their destruction.
God says He is making all things new! This is when the perfect comes. This is the passing away of the imperfect.
And this is when prophecies and tongues cease, exactly as it says in 1 Corinthians 13. Why? Because of what prophecies and tongues really are, which is far from the way MacArthur derisively describes them.
He would have you believe these are chaotic, mystical, "out of control" spiritual phenomena (MacArthur does seem obsessed with control, doesn't he?) that do nothing to edify and only sow bedlam and confusion. That's because he doesn't grasp the concept, which is strange for a guy who's so obsessed with it.
Speaking in tongues is merely the experience of letting the Holy Spirit give utterance to your spiritual groaning. It is not intended for the edification of those around you. It's for you. I usually speak in tongues when two things are happening: 1. I am frustrated with the insufficiency of my own earthly vocabulary to give voice to the praise I want to offer the Father, and I realize that only the Holy Spirit can give sufficient expression of my desired worship; and 2. I want to hear from the Lord in my spirit on a particular matter, or just on whatever He may want to pour into me at that moment, and I need to be fully engaged with the Holy Spirit in order to be open to his guidance, information or conviction. I speak in tongues to make that engagement complete.
When I speak in tongues I cannot necessarily "understand" or "translate" the utterances, but that's not the point. It's about an expression of devotion to God that is spiritual and not intellectual, so it comes forth in a spiritual manner.
(Paul does say in 1 Corinthians 12 that tongues cannot edify the church without someone to interpret, and that's of course absolutely correct, but the normal application of tongues is for the benefit of the speaker, not for those listening.)
So why would tongues cease when the new heaven and the new earth come to replace the old? Why would prophecies cease? Because there will no longer be any separation of the spiritual and natural realms. Your everyday utterances will be functional in both the spiritual and the natural, so you won't need to speak in "other tongues" to make your utterances fully spiritual. You'll just need to speak.
And you won't need to receive prophecies in the form of special spiritual revelation because you'll see God face to face. Everything that's known in the spirit will be known in the natural.
In other words, both of these gifts are given to us during this time of separation between man and God to bridge the gap of our own insufficiency in connecting with Him. We have them now because we need them now. They'll cease when the new heaven and the new earth come – when the perfect comes and the imperfect passes away – because they will be completely unnecessary then.
Finally, a word about MacArthur's claim that any use of prophecies or tongues means you're treating Scripture as insufficient. That is simply not true.
In John 14:25-26, Jesus Himself says this of the Holy Spirit:
25 "I have spoken these things to you while I am still with you. 26 But the Counselor, the Holy Spirit, whom the Father will send in My name, will teach you everything and remind you of all that I told you. 
And Jesus says this in John 16:13-15:
13 But when the Spirit of truth comes, He will guide you into all truth. For He will not speak on His own authority. But He will speak whatever He hears, and He will tell you things that are to come. 14 He will glorify Me, for He will receive from Me and will declare it to you. 15 All that the Father has is Mine. Therefore I said that He will take what is Mine and will declare it to you.
So what will the Holy Spirit do, according to no less an authority than Jesus Christ? He will teach us. Remind us. Guide us into all truth. Speak what He hears. Tell you things that are to come. Receive from Christ and declare it to us.
I don't know how you can put it any more plainly than that. I suppose MacArthur might argue that the Holy Spirit was only to do this until He had offered enough teaching, declaration and reminding to complete the canon of Scripture, but Jesus indicates no such time limit on the Holy Spirit's work. He simply tells us that this will be the Holy Spirit's work.
Does MacArthur want to argue that the Holy Spirit completed his work at the end of the First Century and did it no more after that? If that's true, then what happened to the gift of the Holy Spirit as referenced by Peter in Acts 2? What is the Holy Spirit if not the Spirit of Christ guiding us in this world today?
So we know the work of the Holy Spirit is to guide is into truth, and to remind us of the words of Christ, and to speak what He hears from God and declare it to us.
Does this mean Scripture is not sufficient? Of course not! If any amplification of Scripture implied the insufficiency of Scripture, then John MacArthur himself should be condemned for giving sermons. Why preach? Just read directly from the Bible and be done with it. If you say even one more word, then you're treating the Bible as insufficient!
That's absurd, of course, but it's the exact same logic MacArthur uses to tell us we should not seek any guidance or understanding from the Holy Spirit, which is all prophecies and tongues are.
Finally, I'll come back to MacArthur's astonishing condescension when talking about Christians who look to prophecies and tongues to help us hear from God. He absolutely belittles the people who value these gifts, running them down as weaklings who "can't make it" without these "mystical" phenomena.
And he seems very concerned about the trust people place in anyone who offers a prophecy, fearing that all order will be lost if this is allowed to go on.
Yet what about people who put their trust in John MacArthur? Every time he preaches a sermon – or any pastor for that matter – people have to place a certain degree of trust in his honesty and in his judgment to correctly discern and present the meaning of Scripture.
In either case, the correct test is the same: If the teaching or prophecy lines up with Scripture, it is trustworthy. If it doesn't, then it's not.
1 John 4:1-3 tells us exactly how to do this, and makes it very clear that we do indeed hear from spirits:
Beloved, do not believe every spirit, but test the spirits to see whether they are from God, for many false prophets have gone out into the world. 2 By this you know the Spirit of God: every spirit that confesses that Jesus Christ has come in the flesh is from God, 3 and every spirit that does not confess Jesus is not from God. This is the spirit of the antichrist, which you heard was coming and now is in the world already.
Spiritual gifts are still with us, including tongues and prophecy, and they will remain with us until this earth passes away, and the perfect replaces the imperfect.
John MacArthur is clearly a serious and talented biblical scholar, but he has become so obsessed with attacking Pentecostals, the power of the teaching that could be a blessing is becoming a source of contention and division.
I'll pray for him. I'll also pray for you to clearly hear and discern the voice of God. And remember, as 1 Corinthians 2:14 makes clear, these things are spiritually discerned. It's not a booming voice that speaks into your ear, or a billboard on I-75. That's why the world doesn't understand it. But when you realize something is in your spirit and it's burning your conscience, and it's consistent with the proclamation of Christ as Lord, that's when you know you're discerning a Word from God Himself.
Get the complete collection of Dan's books for the low-price of $49.99! Dan will sign all copies . Order the 4-pack of Powers and Principalities, Pharmakeia, Dark Matter and Backstop.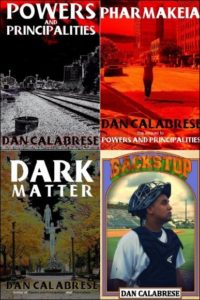 Or order individually for $15.99 each!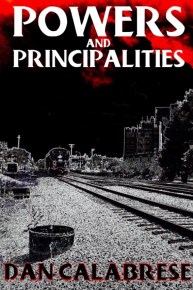 Powers and Principalities (2009): Twenty years ago, Clay Bender saw the face of spiritual evil with the naked eye while attending a party. Now, Clay's terrifying spiritual gift returns, showing him that a supernatural threat is looming – one that could threaten everyone in Royal Oak. As the community grapples with bizarre electrical disturbances and a horrible train derailment, only Clay can recognize the true nature of the strange events, and he and his two closest friends have little time to battle the city's demons – even as all three are forced to face their own. (Buy Now button for signed hard copy: $15.99. Amazon button for digital download: $2.99)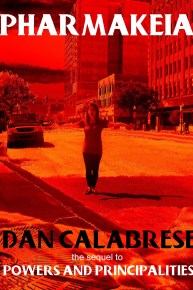 Pharmakeia (2010): Kyla Spears is being warned – in terrifying dreams – of grisly and violent tragedies looming for young people in Royal Oak. But her spiritually gifted friend Clay Bender is reluctant to help, and her feelings for one charming young man threaten her newfound spiritual integrity and her ability to face the truth about what's really behind the threat. (Buy Now button for signed hard copy: $15.99. Amazon button for digital download: $2.99)
Comments
comments