PHOTO CREDIT: UNICEF
You're too young to get married when you're 16. That's not really arguable, is it?
Some of you are going to bring up Mary and Joseph, so if you want to turn back the clock on the rest of the culture to the tune of 2,000 years then maybe we could have that discussion. But in 2018, a 16-year-old kid is too young and too immature to make the decision to get married.
It shouldn't be controversial – although it probably will be – that the State of Florida has decided to codify this obvious common sense into law:
The measure that passed was a weakened version of an earlier bill that sought to establish 18 as the minimum marriage age in Florida. Under the measure sent to Scott, 17-year-olds can get married so long as their partners are no more than two years older than they are and parental consent is obtained.
Florida's current law allows 16- and 17-year-olds to marry with parental consent ― and in cases of pregnancy, a judge can approve the marriage of a younger child. Since 2012, at least one 13-year-old and several 14-year-olds have wed in Florida, reported the AP.
Other activists were more muted in their celebration.
"
It's not what we wanted, but it's much, much better
," Amanda Parker of the AHA Foundation, a women's rights organization, told PBS Frontline. "We really wanted to see a bright line minimum marriage at 18. We know that 17-year-olds are the most likely to be married out of all minors, so we're still leaving a big chunk of the population at risk of child marriage in Florida."
More than
16,000 minors were married in Florida
between 2000 and 2015, according to a Frontline analysis of child marriage in the U.S. Of those minors, more than 60 percent were 17 at the time of marriage.
If you believe marriage is only that which God designed, and nothing else, then you have to cheer this. No 16-year-old is intellectually, emotionally, mentally or spiritually developed enough to choose a partner of the opposite sex and commit to that partner for life, particularly considering what God demands of marriage partners in Ephesians 5:
22 Wives, be submissive to your own husbands as unto the Lord. 23 For the husband is the head of the wife, just as Christ is the head and Savior of the church, which is His body. 24 But as the church submits to Christ, so also let the wives be to their own husbands in everything.
25 Husbands, love your wives, just as Christ also loved the church and gave Himself for it, 26 that He might sanctify and cleanse it with the washing of water by the word, 27 and that He might present to Himself a glorious church, not having spot, or wrinkle, or any such thing, but that it should be holy and without blemish. 28 In this way men ought to love their wives as their own bodies. He who loves his wife loves himself. 29 For no one ever hated his own flesh, but nourishes and cherishes it, just as the Lord cares for the church. 30 For we are members of His body, of His flesh and of His bones. 31 "For this reason a man shall leave his father and mother and shall be joined to his wife, and the two shall be one flesh."[a] 32 This is a great mystery, but I am speaking about Christ and the church. 33 However, let each one of you love his wife as himself, and let the wife see that she respects her husband.
There are people in their 50s who aren't mature enough to do all that.  You're not going to a find a teenager, let alone a combination of two of them, who can even grasp all that, let alone make a mature  decision to do it.
God says a man shall leave his father and mother and cleave to his wife. If you're married at 16, you're not leaving your father and mother. You need them to drive you to school and check your math homework.
This is actually a rare example of our modern-day culture taking marriage seriously. It's not something to do on a whim. It's not something to do in response to emotion. It's not something to do in order to make yourself feel more grown up.
I've been married for 20 years and I'm constantly amazed at what it requires in terms of self-denial, but also at the way the rewards make it all so much more than worth it. The key to that, of course, is that you marry the right person, and you have to have enough experience in life to know how to recognize the right person. At 16, you simply don't.
There is also the matter of forced or pressured marriages, and much of the impetus behind this bill is to prevent that. Too many young people are being shoved into marriages by people in their lives who don't have their best interests at heart, or they're making a decision to marry under pressure because of a pregnancy.
Well done, Florida. No one under 17 has any business getting married, and if it were up to me that number would be higher.
By the way, libertarians, I already know that you don't think the state should be involved in marriage at all, so you don't need to inform me of your thoughts on that. Or on anything.
Get the complete collection of Dan's books for the low-price of $49.99! Dan will sign all copies . Order the 4-pack of Powers and Principalities, Pharmakeia, Dark Matter and Backstop.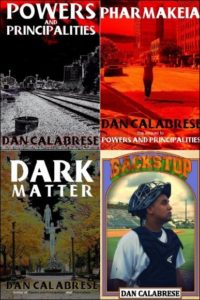 Or order individually for $15.99 each!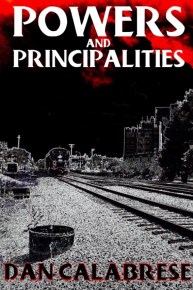 Powers and Principalities (2009): Twenty years ago, Clay Bender saw the face of spiritual evil with the naked eye while attending a party. Now, Clay's terrifying spiritual gift returns, showing him that a supernatural threat is looming – one that could threaten everyone in Royal Oak. As the community grapples with bizarre electrical disturbances and a horrible train derailment, only Clay can recognize the true nature of the strange events, and he and his two closest friends have little time to battle the city's demons – even as all three are forced to face their own. (Buy Now button for signed hard copy: $15.99. Amazon button for digital download: $2.99)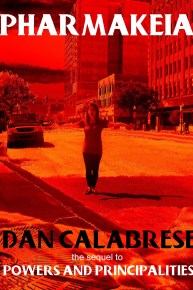 Pharmakeia (2010): Kyla Spears is being warned – in terrifying dreams – of grisly and violent tragedies looming for young people in Royal Oak. But her spiritually gifted friend Clay Bender is reluctant to help, and her feelings for one charming young man threaten her newfound spiritual integrity and her ability to face the truth about what's really behind the threat. (Buy Now button for signed hard copy: $15.99. Amazon button for digital download: $2.99)
Comments
comments