The good news is that not many people are interested in watching award shows anymore. The bad news is that they're still happening, and worse yet, there are still awards being given and talked about.
We'd all be better off if awards were eliminated entirely. It certainly doesn't sound like television audiences would shed a tear:
The 2018 Academy Awards logged its lowest TV ratings ever last Sunday, capping off a particularly brutal run for marquee live events that were supposed to be immune from TV's broader woes.
The first quarter of the year is typically full of blockbuster awards shows for music, TV and film as well as the Super Bowl, bolstered in 2018 by the Winter Olympics. This year, they've underdelivered, leaving advertisers feeling queasy about the millions of dollars they spent in pursuit of mass audiences.
"All of this competition from streaming video has had its impact on regularly scheduled shows," said Brad Adgate, an independent media consultant and ratings expert. "Event programming was exempt from that, but we're starting to see now it's impacting these kind of shows."
The Grammys, the Emmys, the Super Bowl and the Olympics all registered declines in live-TV viewership from previous years or remain near all-time lows. The Oscars, which aired on ABC, put an exclamation point on the end of that run, losing 6.4 million viewers compared with the previous year.
The story is dismissive of the idea that political spouting is one of the things turning people off from watching award shows. I think it's a factor, but I think viewership of this sort of thing would probably be down regardless – if only because today there are so many other things you can watch that don't involve celebrities stroking each other's considerable egos.
But maybe this has something to do with it: Awards are meaningless. They don't prove anything. There's the subjective opinion of a certain person or group of people that this or that was better than whatever else. Winning an award gives you something to brag about, but it doesn't make your product, service or creation any better than it was before you won it.
And the folly of chasing awards leads to utter absurdities. You've probably seen the horrible Chevy commercials in which the bearded,  oh-so-superior focus group leader drones on about all the automotive awards Chevy has won. That was beautifully lampooned here by the spectacular Mahk:
J.D. Power and Associates has built an entire lamentable existence out of giving out "awards" to car companies, always the result of "market research" these same companies pay J.D. Power to do.
Porn star is too generous a description for this outfit.
But this takes place in all walks of life. When I worked full-time as a journalist I was urged to submit my "best work" for journalism awards. I usually found a way out of it. One time I was asked to help judge entries from a contest involving journalists from the Pacific Northwest. I agreed, and I gave my best assessment, but the whole thing felt kind of fraudulent. I don't know these people and I couldn't tell from reading their stories how accurate they were, or how well they'd really served their readers.
And what different did it make what I thought anyway?
When I owned a PR firm, my employees pleaded with me to submit a project to the local market's industry award event.
I relented and we did, and it won Best of Show. A few months later we lost the client for whom we'd done the award-winning work, which pretty much proved what I had always believed was the value of awards. Nothing. Someone on the outside thought the work looked impressive, but they didn't really understand everything that was going on. So the award was just a shiny expression of their opinion. It meant nothing.
Too often I've seen people in creative fields like advertising whose work appeared more intended to win awards for the agencies than to really serve the strategic interests of clients. You can usually tell when the audience the creative director has in mind is a panel of judges rather than the client or the market.
But they chase after awards for the ego boost and to give them something to talk about. If you can describe yourself as "award-winning," I guess that means you're better than the person whose mantle consists only of family photos and candles – and no awards.
What it probably means is that you spent a lot of time preparing contest submissions when you should have been doing real work.
Awards are ego trips. They offer no objective or quantifiable measure of value.  They're a token of someone's moment to preen and bask in attention.
God created us to give praise to Him, not to ourselves. And if your work is really good, its quality will speak for itself. The hardware is gaudy and unimpressive, and the fact that you chased after it is even worse.
The best way to end award shows is to just stop giving out awards, of every kind. The Chevy focus group guy would need to find something else to talk about – or maybe he could get some real work done for a change as well.
Get the complete collection of Dan's books for the low-price of $49.99! Dan will sign all copies . Order the 4-pack of Powers and Principalities, Pharmakeia, Dark Matter and Backstop.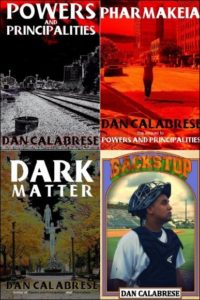 Or order individually for $15.99 each!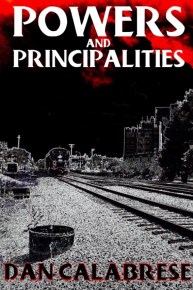 Powers and Principalities (2009): Twenty years ago, Clay Bender saw the face of spiritual evil with the naked eye while attending a party. Now, Clay's terrifying spiritual gift returns, showing him that a supernatural threat is looming – one that could threaten everyone in Royal Oak. As the community grapples with bizarre electrical disturbances and a horrible train derailment, only Clay can recognize the true nature of the strange events, and he and his two closest friends have little time to battle the city's demons – even as all three are forced to face their own. (Buy Now button for signed hard copy: $15.99. Amazon button for digital download: $2.99)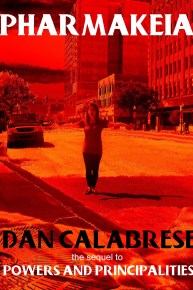 Pharmakeia (2010): Kyla Spears is being warned – in terrifying dreams – of grisly and violent tragedies looming for young people in Royal Oak. But her spiritually gifted friend Clay Bender is reluctant to help, and her feelings for one charming young man threaten her newfound spiritual integrity and her ability to face the truth about what's really behind the threat. (Buy Now button for signed hard copy: $15.99. Amazon button for digital download: $2.99)
Comments
comments