I mean, sure, he was nice and beloved and all that. But how many people have we been able to say that about? Some people will tell you that "kindness" is all there is to their religious beliefs.
The guy did shill for PBS. Tell me you didn't wonder, even a little.
I think we have our answer, and if you're a Mister Rogers fan, you're going to be happier than the Stephen Hawking fans:
There's no doubt Rogers had the sort of gentle spirit we tend to associate with the light of Christ, and he was generally beloved across the ideological and philosophical spectrum.
Who didn't watch him as a kid? Who didn't plot their own kids down in front of him in the afternoon if they had kids while he was still around?
By the way, he's been mentioned so much in the news lately, you could be forgiven for thinking he just died recently. Nope. He passed away in 2003 not long after this meeting with George W. Bush at the White House:
So depending on your reading of Revelation, he's either been in Heaven for 15 years already, or he'll be that much ahead of you and me in line when it's time for all of us to go at once.
Ah, but that's a post for another day. It's good to know that when the new Heaven and the new Earth arrive, Mr. Rogers will have a neighborhood there. It would hardly seem right without him.
Get the complete collection of Dan's books for the low-price of $49.99! Dan will sign all copies . Order the 4-pack of Powers and Principalities, Pharmakeia, Dark Matter and Backstop.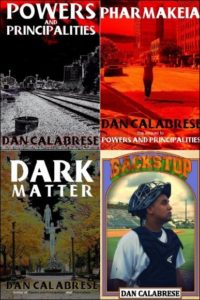 Or order individually for $15.99 each!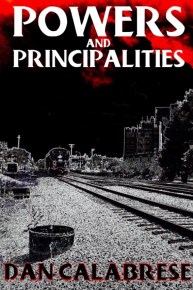 Powers and Principalities (2009): Twenty years ago, Clay Bender saw the face of spiritual evil with the naked eye while attending a party. Now, Clay's terrifying spiritual gift returns, showing him that a supernatural threat is looming – one that could threaten everyone in Royal Oak. As the community grapples with bizarre electrical disturbances and a horrible train derailment, only Clay can recognize the true nature of the strange events, and he and his two closest friends have little time to battle the city's demons – even as all three are forced to face their own. (Buy Now button for signed hard copy: $15.99. Amazon button for digital download: $2.99)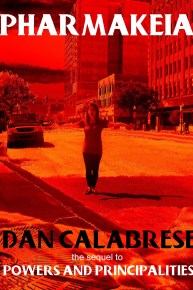 Pharmakeia (2010): Kyla Spears is being warned – in terrifying dreams – of grisly and violent tragedies looming for young people in Royal Oak. But her spiritually gifted friend Clay Bender is reluctant to help, and her feelings for one charming young man threaten her newfound spiritual integrity and her ability to face the truth about what's really behind the threat. (Buy Now button for signed hard copy: $15.99. Amazon button for digital download: $2.99)
Comments
comments