Oh to be sure, it's evil as all Hell. But this is Planned Parenthood. What would you expect? They trade in death as an enabler of carnality.
But if you support the Planned Parenthood agenda, there's nothing that would advance your interests more than to see this happen:
Culture influences far more people than anything else happening in society, and entertainment is the leading driver of culture. As much as you'd like to think that your pastor or your political leaders have greater influence over people's values – and the underlying assumptions behind them – they do not.
What's presented in films and on television as normal is accepted as normal by wide swaths of people simply because that's what they see. This is why left-wing groups have advocated for years to have characters shown who are gay, transgender, shacking up, pregnant out of wedlock and everything else you can possibly imagine. This is why they want you to see kind, well-adjusted characters who are moral libertines, while they want you to see those who favor conservative moral values as uptight prudes who hate and judge everyone.
Because for many people, entertainment is what they know of the world beyond their own circle. If the lovable nerds on Big Bang Theory are yes to science and no to religion, and you love that show, then it's going to influence the way you think about the one vs. the other.
No one at my home is influenced by the lifestyles of Disney princesses, but sadly that's not true of all society.  And don't be surprised if, at some point, Disney is receptive to this pressure. Popular entertainment tends to push the left's social priorities once it feels it's safe to do so.  In the late '70s it was groundbreaking to have a gay character on Soap, which was a pretty goofy (and awesome) spoof on daytime soap operas. Today you're almost considered backward if you don't have at least one gay character, who is usually portrayed as smarter and more sympathetic than the others.
This is something Christians need to get better at, because the secular world has been cleaning our clock at it for decades. Christians tend to think that if they put out a film that hammers the viewer over the head with Christian themes, we're effectively countering the prevailing culture. Meanwhile, secular producers are writing and producing really interesting and creative stories, and pushing their point of view with subtlety.
That's exactly what Planned Parenthood wants to see here. They were too audacious in the way they pushed for it, but they know exactly what they want and why.
God's people have to learn this. And some of us are already working on it.
Get the complete collection of Dan's books for the low-price of $49.99! Dan will sign all copies . Order the 4-pack of Powers and Principalities, Pharmakeia, Dark Matter and Backstop.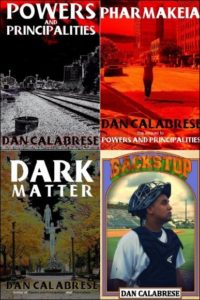 Or order individually for $15.99 each!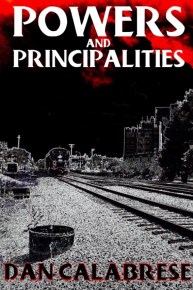 Powers and Principalities (2009): Twenty years ago, Clay Bender saw the face of spiritual evil with the naked eye while attending a party. Now, Clay's terrifying spiritual gift returns, showing him that a supernatural threat is looming – one that could threaten everyone in Royal Oak. As the community grapples with bizarre electrical disturbances and a horrible train derailment, only Clay can recognize the true nature of the strange events, and he and his two closest friends have little time to battle the city's demons – even as all three are forced to face their own. (Buy Now button for signed hard copy: $15.99. Amazon button for digital download: $2.99)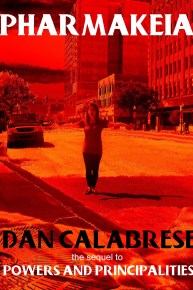 Pharmakeia (2010): Kyla Spears is being warned – in terrifying dreams – of grisly and violent tragedies looming for young people in Royal Oak. But her spiritually gifted friend Clay Bender is reluctant to help, and her feelings for one charming young man threaten her newfound spiritual integrity and her ability to face the truth about what's really behind the threat. (Buy Now button for signed hard copy: $15.99. Amazon button for digital download: $2.99)
Comments
comments