I'm sure this seemed like a really good idea at the time he thought of it. Maybe he'll refine the plan a little bit and try it again. Why give up after the first time?
Oh, right, this is why:
A Kansas woman suspicious that someone had broken into her home later found her ex-boyfriend's legs punched through her ceiling.
The Salina Journal reports that a 23-year-old Salina woman called police to her house Thursday after finding her front door chained from the inside. Police say they searched the house but didn't find an intruder.
Two hours later, the woman and her current boyfriend heard a loud noise and found the 25-year-old former boyfriend had fallen partly through the living room ceiling. Police say the suspect, Tyler Bergkamp, was hiding in the attic.
Police say the current boyfriend pulled Bergkamp's legs through the ceiling and began fighting him.
Seriously, I wonder what he was planning to do if they hadn't found him out. Was he going to attack one or both of them? Was he just there as a voyeur?
Or am I giving him too much credit thinking he actually had a plan, or even a purpose? Maybe he just couldn't deal with the breakup and had to be near her somehow, some way, even if nothing productive would be accomplished by it.
Very upset people will do some astonishingly irrational things. Hopefully the next one you do won't result in the crap being kicked out of you like happened to this guy.
Get the complete collection of Dan's books for the low-price of $49.99! Dan will sign all copies . Order the 4-pack of Powers and Principalities, Pharmakeia, Dark Matter and Backstop.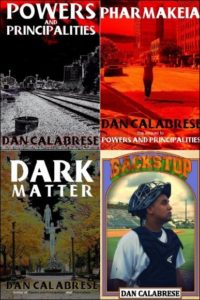 Or order individually for $15.99 each!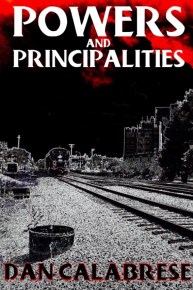 Powers and Principalities (2009): Twenty years ago, Clay Bender saw the face of spiritual evil with the naked eye while attending a party. Now, Clay's terrifying spiritual gift returns, showing him that a supernatural threat is looming – one that could threaten everyone in Royal Oak. As the community grapples with bizarre electrical disturbances and a horrible train derailment, only Clay can recognize the true nature of the strange events, and he and his two closest friends have little time to battle the city's demons – even as all three are forced to face their own. (Buy Now button for signed hard copy: $15.99. Amazon button for digital download: $2.99)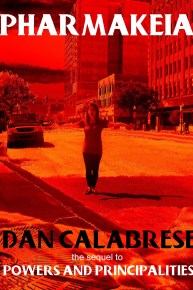 Pharmakeia (2010): Kyla Spears is being warned – in terrifying dreams – of grisly and violent tragedies looming for young people in Royal Oak. But her spiritually gifted friend Clay Bender is reluctant to help, and her feelings for one charming young man threaten her newfound spiritual integrity and her ability to face the truth about what's really behind the threat. (Buy Now button for signed hard copy: $15.99. Amazon button for digital download: $2.99)
Comments
comments