Remember, this is a guy who was scorned by baseball writers for making a complete mockery of the game just by trying to play it. He was too old, they said, clearly not good enough, and taking up a spot that could be given to a more deserving prospect.
Hmm. Why heap such scorn on a man for trying to do something he wants to do? Wouldn't have anything to do with the fact that he's an outspoken Christian and they want him out of the limelight so they won't have to listen to him anymore, would it?
Last year Tebow played in the Florida State League for the St. Lucie Mets, which is the advanced Class A level of the minor leagues. That's three levels below the majors. This year, the Mets promoted him a level to Double-A, assigning him to the Binghamton Rumble Ponies of the Eastern League  – and once again, Tebow's critics called this a farce.
About that: Tebow's first at-bat for the Rumble Ponies came last night. We have the video:
Now granted, one home run in one at-bat doesn't prove Tebow belongs at the Double-A level, and he still has a long climb to get to the majors, especially at the age of 30. Tebow is big and strong and any big, strong guy could sit on a fastball, get lucky and make contact on a given pitch and hit it out. It doesn't mean he's going to do it all the time.
But remember, this is Tebow's first at-bat in Double-A. You might also recall that he hit a home run in his first at-bat in the FSL.
Now let's deal with some of the common tropes you hear about Tebow and his baseball quest.
First of all, Tebow is not taking up a roster spot that would otherwise go to a more deserving prospect.  A baseball team's minor league organization consists of six or seven farm clubs with more than 150 players on the rosters. Very few of those 150 players are highly regarded prospects expected to have a shot at reaching the majors. The rest are what's known as "organizational depth," which basically means you can't field a ballclub with only five or six top prospects, so you need other players in order to play the games.  No top prospect is getting cut by the Mets so Tim Tebow can play. That's ridiculous, and the people making that claim know it.
Second, if Tebow is doing this as some sort of publicity stunt, he should have picked a different one. Life in the minor leagues is no treat. You're paid very little money, you travel on buses and you stay in pretty modest accommodations. Your clubhouse is many levels below what they enjoy in the majors, and you spend your time in cities like Binghamton and Port St. Lucie. With no disrespect intended to those cities, it's usually not where publicity hounds want to be.
And if Tebow is looking for good publicity, he's looking in the wrong place. He's mostly getting beaten up by baseball writers for what he's doing – yet he's come back again for a second straight year to do it again.
I'll say what I've said from the beginning: With as many factors as were working against Tebow from the outside – his age, the number of years since he had played, etc. – if he somehow makes it to the majors, that can only be a God thing.
And if God ordained it, then nothing is going to stop it from happening, and you can bet that Tebow will use his success for God's glory – as he has pretty much everything in his life to this point.
And that's why I'm rooting for him, in spite of the fact that his employer is the New York Mets.
Get the complete collection of Dan's books for the low-price of $49.99! Dan will sign all copies . Order the 4-pack of Powers and Principalities, Pharmakeia, Dark Matter and Backstop.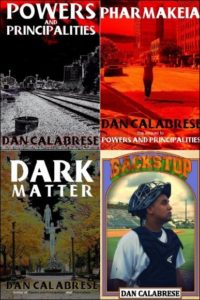 Or order individually for $15.99 each!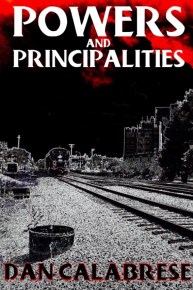 Powers and Principalities (2009): Twenty years ago, Clay Bender saw the face of spiritual evil with the naked eye while attending a party. Now, Clay's terrifying spiritual gift returns, showing him that a supernatural threat is looming – one that could threaten everyone in Royal Oak. As the community grapples with bizarre electrical disturbances and a horrible train derailment, only Clay can recognize the true nature of the strange events, and he and his two closest friends have little time to battle the city's demons – even as all three are forced to face their own. (Buy Now button for signed hard copy: $15.99. Amazon button for digital download: $2.99)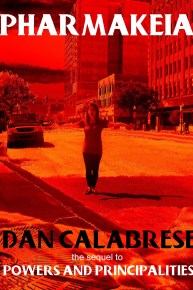 Pharmakeia (2010): Kyla Spears is being warned – in terrifying dreams – of grisly and violent tragedies looming for young people in Royal Oak. But her spiritually gifted friend Clay Bender is reluctant to help, and her feelings for one charming young man threaten her newfound spiritual integrity and her ability to face the truth about what's really behind the threat. (Buy Now button for signed hard copy: $15.99. Amazon button for digital download: $2.99)
Comments
comments