Bill Wiese is the "23 Minutes In Hell" guy. (It was a vision, and I believe him. It wasn't one of those Burpo things.)
And he's got an interesting take here on the fear of the Lord, which as he says is something you don't hear preached about a lot on Sundays.
Wiese does a nice job of exploring the full meaning of this phrase, and it's a good investment of four minutes for you to listen to it. But I think he misses something, which we'll get to below. First watch:
To be sure, if fear is reverence, respect and awe, then there's every reason to fear God. Wiese does an excellent job of helping us develop our understanding of the concept with all this in mind.
But the for the modern-day person, this is still one of those notions that messes with the mind, for a number of reasons.
First, why does it make sense to fear God when we're always hearing how loving, kind, merciful and generous God is? Is it like loving an abusive father or husband? Does God have a mean, sadistic side?
Second, Scripture itself warns us against fear. In 1 John 4:18 we're told that perfect love casts out fear. In 2 Timothy 1:7 we're told that God has not given us a spirit of fear. All throughout Scripture, fear is descried as something antithetical to the faith.
So is it any surprise we struggle with this idea?
But the problem, I think, is that we tend to hear "fear" in the context of its most common modern applications. To be afraid. To be filled with anxiety. To think someone or something is trying to hurt us.
Understood incorrectly, the warning to fear God can make us think of God as furious and vindictive, sitting up there raging at us for all the things that are wrong with us.
No wonder some people don't spend time in prayer. They're afraid to come into God's presence because they think He hates them. That's what they've let "fear the Lord" become for them.
None of that is correct. God does not hate you. He is not furious at you. He is not at His wit's end with you.
But . . . what's very real about God is His wrath, and this is also a problem for many Bible readers because we tend to think of traits God has as being similar to things we've seen in humans we know. If you know someone who tends to lose his temper a lot, you might think that's what God's wrath is like. Angry. Raging. Out of control.
God is never out of control – at least to Himself. His wrath is not like some human's temper tantrum. God's wrath, by contrast, is necessary for the preservation of His holiness and the ultimate destruction of sin.
What God can do to you is far more terrifying than what any human can do to you. They can kill you. He can confine you in Hell and ultimately destroy your soul. There are some people to whom He will do that, not because He wanted to or was having a fit of pique, but because the restoration of all things will have no place for sin, and those who refuse to let go of their sin will have to be thrown in the fire with it. It will be their choice.
That is God's wrath. It is terrible and irreversible. It is forever. You don't want it to happen to you. And when you think about it, you would be wise to fear it precisely because it is so awful.
Fearing God also means simply realizing that He is the only source for all good things, and if He ever believed it necessary, He could remove some or all of those good things from you. A healthy fear of the God who can do that is wise.
But it's a different kind of fear than all the other forms discussed in the Bible, or in your daily life, because it's a fear of someone who can destroy you, but wants to do exactly the opposite and has already done the work that will make that possible – if only you will fear Him enough to obey Him.
Get the complete collection of Dan's books for the low-price of $49.99! Dan will sign all copies . Order the 4-pack of Powers and Principalities, Pharmakeia, Dark Matter and Backstop.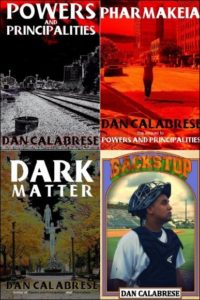 Or order individually for $15.99 each!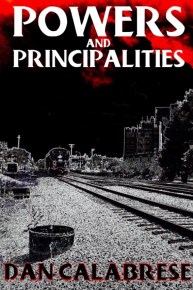 Powers and Principalities (2009): Twenty years ago, Clay Bender saw the face of spiritual evil with the naked eye while attending a party. Now, Clay's terrifying spiritual gift returns, showing him that a supernatural threat is looming – one that could threaten everyone in Royal Oak. As the community grapples with bizarre electrical disturbances and a horrible train derailment, only Clay can recognize the true nature of the strange events, and he and his two closest friends have little time to battle the city's demons – even as all three are forced to face their own. (Buy Now button for signed hard copy: $15.99. Amazon button for digital download: $2.99)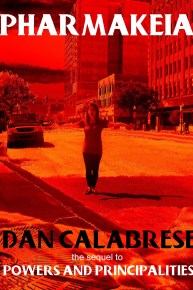 Pharmakeia (2010): Kyla Spears is being warned – in terrifying dreams – of grisly and violent tragedies looming for young people in Royal Oak. But her spiritually gifted friend Clay Bender is reluctant to help, and her feelings for one charming young man threaten her newfound spiritual integrity and her ability to face the truth about what's really behind the threat. (Buy Now button for signed hard copy: $15.99. Amazon button for digital download: $2.99)
Comments
comments