Some of you get mad at me about this, but I have to be honest about what I believe:
I believe in Heaven. I believe in eternity. I believe everything Jesus and the writers of Scripture told us will come to pass. In a soon-coming piece I'll be more detailed about how I read what the Bible tells us about all this, but suffice it to say for the purposes of today: I am absolutely a believer in all of it.
That said, I am deeply skeptical of the stories you hear about people who claim to have died, visited Heaven and returned. I am not talking about visions, which is why I believe Bill Wiese. Visions are real and they come from God.  I'm talking about people, like Colton Burpo, who claim they actually died, actually went to Heaven and then came back.
I am very skeptical of these stories because there is no scriptural support for the idea that this ever happens. Paul was caught up in the Third Heaven, but that was a vision and he didn't die.  These people claim they died in an accident, or on an operating table or whatever, and went to Heaven only to be revived by the doctors and wake back up.
To this day I have not heard a single such story of this genre that convinced me. A lot of Christians get mad at me for this skepticism because they see these stories as a way to help convince people that God is real and the Gospel is true. I get that, but I think it's a mistake to lean on such stories.
And confirmation of my thinking comes from none other than 20-year-old Alex Malarkey, who was the subject of the book "The Boy Who Came Back From Heaven," which was co-authored with his father Kevin. The story was that Alex "died" in a car accident, went to Heaven and came back, but was left paralyzed. The book became a New York Times bestseller, but publisher Tyndale stopped selling it four years ago after Alex recanted the whole story, saying he made it up to get attention and was subsequently exploited by his father and by Tyndale as a result.
Now he's suing Tyndale for the use of his name in pushing the book:
Malarkey has sued on the grounds of defamation, financial exploitation, and publicity placing a person in a false light, saying that Tyndale went forward with initially publishing and promoting the book knowing his opposition. He states that he did not write any part of the book or consent to the use of his name as a coauthor and story subject.
The suit states that he has "never been permitted to read the contract, nor to review any accountings provided under the contract, he refuses to acknowledge that the contract 'is in effect and binding,' now that he has reached the age of majority."
A New York Times bestseller, The Boy Who Came Back from Heaven sold over a million copies and launched several spinoff products based on Malarkey's story.
Tyndale said in a statement issued this week that it no longer promotes the book or makes it available for sale, and that it has complied with the terms of the book contract.
"This is a terribly unfortunate situation, which deeply saddens all of us at Tyndale," said Todd Starowitz, the publisher's spokesman. "Despite the claims in Alex Malarkey's lawsuit, Tyndale House paid all royalties that were due under the terms of our contract on his book, The Boy Who Came Back from Heaven. Tyndale took the book out of print in 2015 when Alex said that he had fabricated the entire story. Any books still available from online vendors are from third-party sellers."
The recent lawsuit reiterates Malarkey's denial of the heaven story portrayed in the book, alleging that his father was the one behind the story and that he does not remember what happened while he was a child in a coma after the accident. Malarkey, a quadriplegic, lives with his mother in Ohio, collecting Social Security.
This sounds very much like the case of the Burpos, in which father Todd was the driving force behind turning young son Colton's tale into a branded media phenomenon. Colton's story was supposedly air tight because he came out of it knowing things he couldn't have known any other way. For one thing, I don't know if anything like that actually happened or if Todd Burpo merely claimed it did, but I do know that the Holy Spirit can give any information to a person He wishes, and it doesn't require a visit to Heaven.
It will probably be difficult for Alex Malarkey to win this suit against Tyndale because Kevin Malarkey was legally acting as his legal guardian at the time, and Tyndale most likely followed the law in making a business deal with Kevin Malarkey. Alex's issue is really with his father, but his father isn't the one who has the big pockets.
Regardless, the fact that Tyndale has completely stopped selling books about people's so-called experiences in Heaven should tell you something. Tyndale has also come to recognize the problems inherent with these stories.
As for the objection many Christians make that we should not cast doubt on these stories, as they help to win believers, I disagree.  Only sound doctrine should be used to win believers, and as Alex Malarkey himself wrote four years ago:
When I made the claims that I did, I had never read the Bible. People have profited from lies, and continue to. They should read the Bible, which is enough.
Exactly. All the testimony you need of God's eternal power, and of Christ's redeeming grace, is in the Bible. Whether people believe it or not is a matter of their hearts. Fanciful tales of white fluffy clouds and sitting on Jesus's lap add nothing to the power of God's own testimony in His word.
(Just to be clear, I am not casting aspersions on signs and wonders that really come from the Holy Spirit. I am not going cessationist on you. But these things have to line up with Scripture, and these Heaven-and-back stories do not.)
Nothing in God's Word backs up the idea that this ever happens. If you were revived on the operating table, or on the street with a defibrillator, then you weren't dead in the first place. God doesn't make mistakes. He wouldn't take you to Heaven if you weren't really dead, and unlike the doctors and the EMTs, God knows for sure whether you're going to die or not. If He decides you're done, no medical professional is going to override His decision.
I get that many of you want to believe these stories. But there's no need to believe them. Heaven is very much for real even if Colton Burpo didn't go there. Boys, girls, men and women go to Heaven even if Alex Malarkey didn't, which by his own admission is the case.
Don't get caught up in heartstring-tugging tales that presume to improve on what the Bible already offers us. You might get stuck having to explain why you celebrated a lie, when you've known all along the one testimony that's indisputably true.
Get the complete collection of Dan's books for the low-price of $49.99! Dan will sign all copies . Order the 4-pack of Powers and Principalities, Pharmakeia, Dark Matter and Backstop.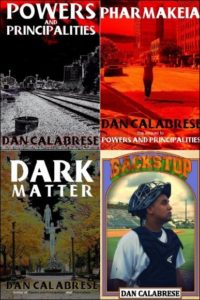 Or order individually for $15.99 each!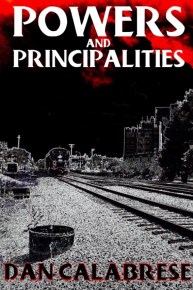 Powers and Principalities (2009): Twenty years ago, Clay Bender saw the face of spiritual evil with the naked eye while attending a party. Now, Clay's terrifying spiritual gift returns, showing him that a supernatural threat is looming – one that could threaten everyone in Royal Oak. As the community grapples with bizarre electrical disturbances and a horrible train derailment, only Clay can recognize the true nature of the strange events, and he and his two closest friends have little time to battle the city's demons – even as all three are forced to face their own. (Buy Now button for signed hard copy: $15.99. Amazon button for digital download: $2.99)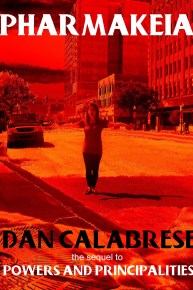 Pharmakeia (2010): Kyla Spears is being warned – in terrifying dreams – of grisly and violent tragedies looming for young people in Royal Oak. But her spiritually gifted friend Clay Bender is reluctant to help, and her feelings for one charming young man threaten her newfound spiritual integrity and her ability to face the truth about what's really behind the threat. (Buy Now button for signed hard copy: $15.99. Amazon button for digital download: $2.99)
Comments
comments