My sympathy for her goes only so far.
You can tell your friends no when they ask something of you that you don't have the means to give. Or you can get less vain friends.
But I do have some sympathy because I can see how this would start as something whose impact would seem limited, only to see it go on and on and on – and it's hard to know at what point it's OK to tell the next person it's just enough already.
The story is that 30-year-old Georgina Childs reached that stage of life when all your friends are getting married, and that roped her into attending 20 weddings (plus 12 bachelorette parties) in four years. It wasn't cheap:
She says she's spent more than $12,600 going to all these weddings. I translated that from pounds because Childs is British. A story in The Sun says the average cost for a guest to attend a British wedding is now over $400. And on seven occasions, Childs was a bridesmaid, so she had to pay for all those dresses too.
The bachelorette parties (which the Brits call "hen dos,") tend to be destination parties where you have to pay for flights and hotels as well as whatever it costs to actually go to the party.
I guess if you move in a social circle like this, the problem is that one expensive wedding simply gives rise to another one. One friends sets a standard by having a destination wedding in Tuscany, and the next one has to go to Paris, and the next one has to go to Milan, and so on and so on. If you just get married at your local church, dude, lame.
We've talked before about the phenomenon of the wedding that becomes all about the self-indulgence of the event rather than commitment of two people to each other in vows offered before God. It's one reason young people are delaying their nuptials so long. They think they have to save up so they can throw one of these super-spectacular, destination blowouts. The church wedding with a modest meal in the church basement afterward is unheard of. The purpose of your wedding is to show off, pure and simple, and to impress your friends more than your other friends were able to do.
At one point should someone like Georgina Childs start telling her friends she can do it anymore? I understand it's easier to say that than to follow through. It's hard to tell the 16th friend who got married that you won't attend her wedding when the 15 before her got your time and your money. And if your place among your social set is important to you, do you fear being ostracized if everyone else is still showing up for these shindigs but you've stopped?
Of course, real friends wouldn't throw you over for a reason like that. But people with a sense of what really matters might not throw these gaudy events.
My son is well aware of the fact that, when he gets married some day, he will face no pushback from Angie or me if he wants to elope. Now, whether he could talk the bride into that is another matter entirely.
Get the complete collection of Dan's books for the low-price of $49.99! Dan will sign all copies . Order the 4-pack of Powers and Principalities, Pharmakeia, Dark Matter and Backstop.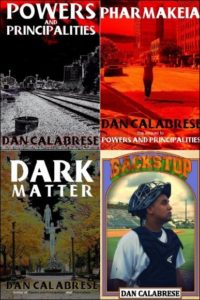 Or order individually for $15.99 each!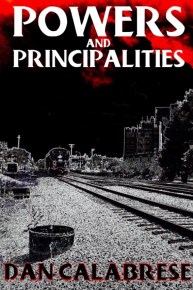 Powers and Principalities (2009): Twenty years ago, Clay Bender saw the face of spiritual evil with the naked eye while attending a party. Now, Clay's terrifying spiritual gift returns, showing him that a supernatural threat is looming – one that could threaten everyone in Royal Oak. As the community grapples with bizarre electrical disturbances and a horrible train derailment, only Clay can recognize the true nature of the strange events, and he and his two closest friends have little time to battle the city's demons – even as all three are forced to face their own. (Buy Now button for signed hard copy: $15.99. Amazon button for digital download: $2.99)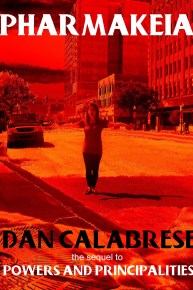 Pharmakeia (2010): Kyla Spears is being warned – in terrifying dreams – of grisly and violent tragedies looming for young people in Royal Oak. But her spiritually gifted friend Clay Bender is reluctant to help, and her feelings for one charming young man threaten her newfound spiritual integrity and her ability to face the truth about what's really behind the threat. (Buy Now button for signed hard copy: $15.99. Amazon button for digital download: $2.99)
Comments
comments