Request denied, as it should be.
I suppose you have to give props for the chutzpah behind the request, though. Mike James, who plays running back for the Tampa Bay Buccaneers, says he has "chronic pain" because football is a violent game.
You don't say.
And because he has "chronic pain," he wants to be able to medicate said pain so he can continue to play. And exactly what "medication" does he want to use?
James, an NFL free agent, applied for a marijuana therapeutic-use exemption (TUE) from the league this offseason, which he hoped would allow him to treat his pain without fear of violating the league's substance-abuse policy. The league denied his request last week, which James said jeopardizes his ability to sign with a team and continue his career.
"By them denying me a TUE, they're really giving me no other options to continue playing football," the 27-year old James said in an interview this week. "To be able to play this violent game and deal with my chronic pain, I need an option for that."
Even as many states around the country have made efforts to decriminalize or legalize cannabis, both medicinally and recreationally, the NFL has shown few signs of relaxing its rules regarding marijuana. James made his TUE request hoping to change that, in the process offering fellow professional football players a safer alternative to addictive opioids, which many use to manage the pain inherent in the game.
An NFL spokesman did not respond to a request for comment on James. The league doesn't typically discuss any player's TUE request, citing privacy concerns.
A sixth-round pick by the Buccaneers in 2013, James was already living on the NFL's fringe. Even if the league had granted his exemption, there's no guarantee an NFL team would offer him a contract. Over six seasons, he's done two stints each with the Bucs and Lions — career total: 23 games — twice ending seasons on the injured reserve list, and has four carries over the past three years.
For one thing, James probably won't be playing the NFL with or without marijuana because he's a fringe talent, just barely good enough to hang on for as long as he has.
His opportunity to play football isn't being taken away by the denial of his request to get stoned, it's being taken away by the fact that no one is offering him a contract.
For another thing, every player in the NFL deals with the fact that football is a violent game, and all of them have some pain as a result. If they can find ways to deal with it without smoking pot, maybe he should ask some of them what it is.
And for a third thing, if your pain is so great that need something like this to mask it, then you shouldn't be playing anyway. Football is a violent game, and those who play it know the risks and make a decision that they can successfully manage the pain that comes with it.
But if that pain is too severe, it's probably indicative of a real problem. And contrary to what some people would have you think, smoking marijuana doesn't heal any condition. It only masks the pain, just as it masks the pain inherent in your life so you don't have to deal with it.
This guy sounds like he really can't handle the realities of playing football. So he wants to smoke pot, which makes sense because that's what people do when they can't handle the realities of life.
Request denied. As it should be.
Get the complete collection of Dan's books for the low-price of $49.99! Dan will sign all copies . Order the 4-pack of Powers and Principalities, Pharmakeia, Dark Matter and Backstop.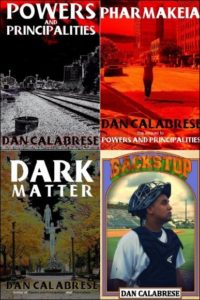 Or order individually for $15.99 each!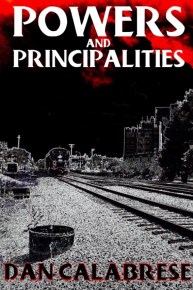 Powers and Principalities (2009): Twenty years ago, Clay Bender saw the face of spiritual evil with the naked eye while attending a party. Now, Clay's terrifying spiritual gift returns, showing him that a supernatural threat is looming – one that could threaten everyone in Royal Oak. As the community grapples with bizarre electrical disturbances and a horrible train derailment, only Clay can recognize the true nature of the strange events, and he and his two closest friends have little time to battle the city's demons – even as all three are forced to face their own. (Buy Now button for signed hard copy: $15.99. Amazon button for digital download: $2.99)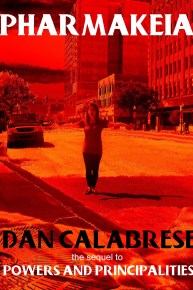 Pharmakeia (2010): Kyla Spears is being warned – in terrifying dreams – of grisly and violent tragedies looming for young people in Royal Oak. But her spiritually gifted friend Clay Bender is reluctant to help, and her feelings for one charming young man threaten her newfound spiritual integrity and her ability to face the truth about what's really behind the threat. (Buy Now button for signed hard copy: $15.99. Amazon button for digital download: $2.99)
Comments
comments